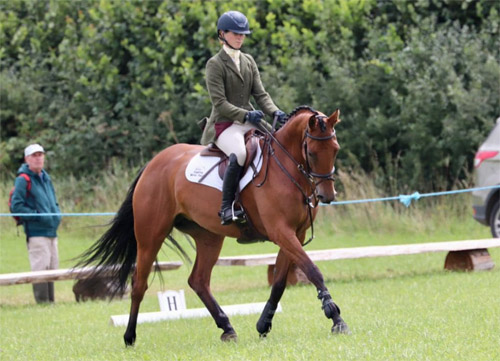 Greta has had a  busy few weeks starting with Pony Club camp for two weeks for the VWH, teaching a super bunch of kids.
Joseph Reed and Lorna McWilliams' Rule Britannia jumped yet another double clear in the Novice at Dauntsey to finish second on his dressage score.
Her own and Judith Turner's B Witched (pictured) went to Gatcombe for the BYEH, showing a lot of promise. It was a fantastic experience for her with a bit more atmosphere.
Cooley For Sure endured a very wet day for the dressage in the Open Championships. He did a tidy test with no mistakes for a 33, just getting a little stuck in the mud which stopped him gaining the extra marks he is capable of. For a horse that loves jumping in the mud, he is definitely better suited to firmer ground for dressage. Sadly no jumping but it was the right decision from the event organisers to cancel given the weather conditions.