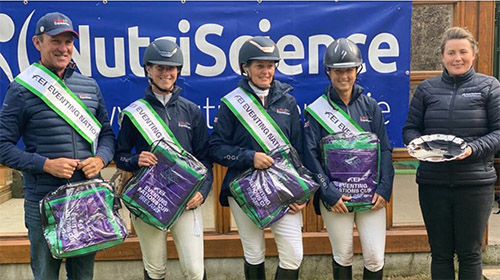 Fresh off the back of a runner-up spot in the BE100Open at Munstead with Wayfairer Jellybean, Greta and Cooley For Sure caught the ferry to Ireland. They had a brilliant weekend in Ballindenisk, making the most of their first selection for Great Britain's Nations Cup team.
It was a great result for the team, who won, with Cooley For Sure fourth individually – the only horse to make the cross country optimum time.
To make things even more special, Greta met Seamus McGee who had travelled to Ballindenisk specifically to see 'Murphy'… Seamus originally backed Murphy, then known as Denny, as a three-year-old, before taking him hunting. No wonder Murphy is such a bold cross country horse!